ADÉỌLÁ DEWIS + CATRIONA ABUNEKE
Welcome to our new Billboard Gallery. Installed in July 2022, this space will showcase new work by Welsh/Wales based artists. Each year we will commission and install a new image, sharing the different perspectives, materials and ideas from a range of artists and makers.
By bringing work outside the gallery walls we hope to celebrate and inspire creativity in the wider community.
Artist Adéọlá Dewis was selected as our first commission through an open call in autumn 2021.
This project has been funded by the Arts Council of Wales Cultural Recovery Fund.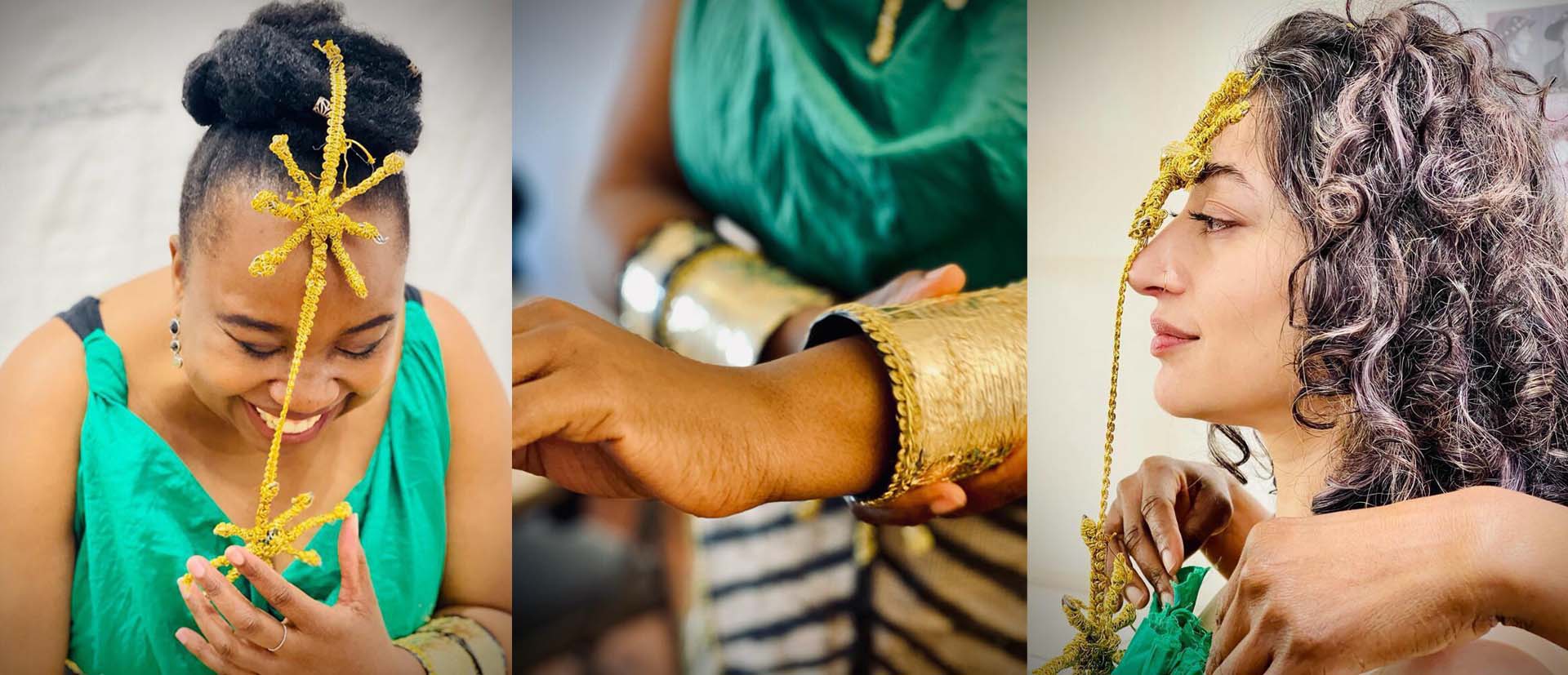 DANCING OUTSIDE OPENS THE ROAD
ADÉỌLÁ DEWIS + CATRIONA ABUNEKE
2022-2023
Dancing Outside Opens the Road is a new work created by artist Adéọlá Dewis and photographer Catriona Abuneke.
Inspired by Cwmbran's history of farming and its connections to the tin industry, this piece draws parallels to elements of the Yoruba deity Ogun, the West African god of iron, metal and metal work.
"I felt this juxtaposition helped to link my specific aesthetic with the integrity of this beautiful Welsh town. I brought to this work my passion for honouring women and for allowing opportunity to celebrate them through transformation." – Adéọlá Dewis
Transformation here refers to the use of costume and adornment. The apron was designed with simple lines and each costume was envisioned to be an element of lines and symbols that would be repeated – inspired by the vévé (drawing) of Ogun.
Artist Naz Syed of Creative Lives worked closely with Adéọlá and Catriona to make connections in the local community. Four women were invited to take part in the photoshoot, where the joy and spirit of Tabassum Ali, Rahila Hamid, Pytsje, and Buhe Ncube was captured, and transformed into the final image you see here.
There will be an opening at Llantarnam Grange on Saturday 13 August, 12-2pm, and it will be on display until July 2023.

ABOUT THE ARTISTS
ADÉỌLÁ DEWIS
Adéọlá is a Trinidadian artist based in Cardiff. Her practice involves drawing, painting, performance, research and writing; and explores themes around ritual, identity, belonging, diaspora, mas(querade), emancipation, celebration, empowerment, masking, movement and transformation. Adéọlá's evolving practice currently engages painting, pattern and photography heavily rooted in African diaspora spirituality.
CATRIONA ABUNEKE
Catriona is a photographer, video artist and teacher. Originally from Scotland, she trained at Leith School of Art, followed by Edinburgh College of Art. Catriona is a qualified Art and Design teacher, has worked as a graphic designer, illustrator and photographer, and was awarded the Gold Echo Award from the IDMA. In 2016 she uprooted and upgraded digital visual skills with a PG Cert in Interactive Media from Algonquin College of Arts and Technology, Ottawa, Canada. Catriona works in collaboration with other creatives and organisations whilst continuing her personal practice in photo and video.